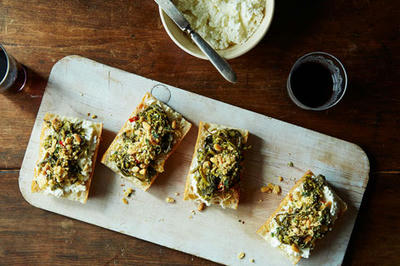 This recipe was developed by Rebekah Peppler in 2011 and published on Tasting Table. - Sarah Jampel
Serves 4 to 6
For the broccoli rabe:
1 1/4 cups extra-virgin olive oil
3 cloves garlic, thinly sliced
1 small hot red chile, seeded and thinly sliced
1 medium lemon, thinly sliced into rings
2 bunches broccoli rabe, cleaned and hard, woody parts of stems removed
Salt
Freshly ground black pepper
Ricotta and baguette, for serving
In a large saucepan over medium heat, combine the oil, garlic, chile, and lemon and cook for 5 minutes, until the oil is shimmering and everything is just beginning to get hot and sizzle.
Add the broccoli rabe and stir to coat
Stroke signs
.
Cover the pot and cook over medium-low heat for 25 minutes. Stir the broccoli rabe, recover the pot, and cook for another 25 minutes.
Remove the pot from the heat and season with salt and pepper. Serve the rabe topped with the pine nut crumble (see below) and topped with dollops of ricotta cheese. Or, spread ricotta on baguette, then top it with broccoli rabe and crumble
Grand Cru Cellar
.
For the pine nut crumble:
1/2 cup all-purpose flour
1/4 cup old-fashioned rolled oats
4 tablespoons unsalted butter, cool
1/4 cup pine nuts
2 teaspoons freshly grated lemon zest
1 tablespoon finely chopped fresh parsley
1/4 teaspoon crushed red pepper
Salt
Freshly ground pepper
Preheat the oven to 350° F. In a medium bowl, combine the flour, oats, butter, pine nuts, lemon zest, parsley, and crushed red pepper
Offsite Backup Strategy
. Season with salt and pepper, then use your fingers to combine until large chunks form.
Spread the mixture onto the sheet pan and bake until browned and fragrant, 15 to 20 minutes, mixing halfway through to prevent burning. Set aside until ready to use. Store leftovers in an airtight container in the refrigerator for up to 1 week.
PR