The "Now What?" Months continue, and we're shifting our focus to the wide world of publishing! Today, Chris Angotti, NaNoWriMo's chief operations officer, argues that you really only need three things to publish a novel: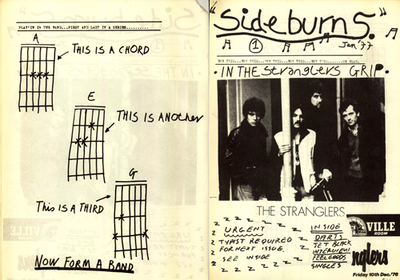 In January of 1977, a British punk fanzine called Sideburns published one of the most influential infographics of all-time. It featured three crude guitar diagrams, along with this annotation:
This is a chord. This is another. This is a third. Now form a band.
The invitation was symbolic of the emerging DIY punk aesthetic: giving readers the tools to go from fans to creators. It was an acknowledgment of amateurism and imperfection, the idea that anyone could pick up a guitar and make noise. The resulting music might be good, terrible, or just okay (this category making up the majority of late-'70s UK punk), but the method to do it was accessible to everyone.
I think about that graphic a lot, and I'm proud that NaNoWriMo exists in the same tradition. We believe that anyone can write a book, and we try to provide the stuff to make it happen. ("This is the page. This is the deadline. This is your imagination. Now write a novel.")
Unfortunately, publishing can often feel like a whole different story. There are so many gatekeepers to getting your work out there, so many boxes to tick to be an "expert" worthy of being widely read. These gatekeepers aren't just external, either. They're our inner editors, and our self-senses of talent, determination, and worth.
Today, I want to give you (or remind you of) some tools to help you move forward in the publishing process. Like those three chords in Sideburns, it's the minimum of what you need—but sometimes that's what's most potent.
This is self-confidence.
You remember that you already wrote a whole novel, right? And chances are, you've got something there, even if it needs excavation. The hard part was sitting down and getting it out; editing, pitching, and publishing are all based on the work you've done already. You can do this, and your story deserves to be read.
This is acceptance of imperfection.
There's a myth that your novel needs to be 100% perfect before you submit it anywhere. Sure, it should be very solid—as solid as you can make it. But agents and editors will help you make it better. Do all you can, but don't let the effort keep you from ever putting it out there.
This is knowledge of the field.
Want to traditionally publish? There's no shortage of information out there, including plenty on this very blog. Know how to write a query letter and make a list of the agents (and publishers if they accept direct submissions) active in your genre, and you're off to a fine start.
If you want to self-publish, bootstrap some expertise on the best companies out there (we work with a few), plus the design and promotion skills you'll need for later on.
PR