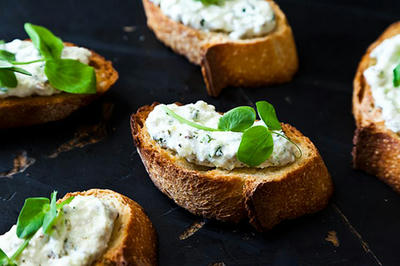 Chopped ramps add crunch, bite and attitude to pristine, fluffy ricotta which is smeared over crostini and topped with a jumble of sweet pea shoots. This simple recipe highlights the freshest ingredients and the contrasting nice and naughty flavors of springtime. If you can't locate ramps in your market, then try substituting spring onions.
WHO: TasteFood lives in San Francisco and has studied at at Le Cordon Bleu.
WHAT: Springtime crostini with complex flavors that never let on how easy they are to make.
HOW: It's practically just assembly: aromatics -- ramp bulbs, lemon zest, and mint -- are stirred into ricotta that's spooned onto toasted baguette then topped with pea shoots.
WHY WE LOVE IT: You wouldn't think raw ramp bulbs would be appealing, but they are offset so well by the creamy ricotta that FOOD52er Rivka even ate them for breakfast.
Serves 8
8 - 1/2" thick slices baguette
extra-virgin olive oil
1/2 cup fresh whole milk ricotta
sea salt
freshly ground black pepper
1/4 cup finely chopped ramps or green garlic, bulbs and stems only (or substitute with the bulb and pale green parts of spring onions)
1 tablespoon finely chopped mint leaves
1/2 teaspoon finely grated lemon zest
generous handful pea shoots
1/2 lemon
Preheat oven to 400 F. Lightly brush bagette slices with olive oil. Arrange on baking sheet. Bake in oven until golden brown on both sides, turning once, 12 to 15 minutes. Remove.
Combine ricotta, 1 tablespoon oil, 1/2 teaspoons salt and black pepper in a bowl; mix well until light and fluffy. Stir in ramps, mint and lemon zest. Spread ricotta on baguette slices.
Top crostini with a generous pinch of pea shoots. Drizzle a little olive oil over crostini, followed by a squeeze of lemon juice. Sprinkle with a few grains of sea salt and black pepper.
PR